Updated July 1, 2021 –
Our organization continues to closely monitor the changes being made by the CDC, Governor Mike Dewine, and other businesses in our area concerning the use of face masks.

Over the last year, our company has moved from a salon model to embracing and being qualified more like a medical facility than a salon. For this reason, we are opting to continue the use of face masks while in our center. 
From day one, we have continued to emphasize that our #1 priority is the health and safety of our team and our guests. Every decision we have made and continue to make is with this priority at the forefront of the decision-making. We truly appreciate the patience and support of our guests as we continue to serve you while moving one month closer to a hope-filled new normal. 
The following safety protocols remain crucial to the success of the health and safety of our team and our guests and thus will remain in place.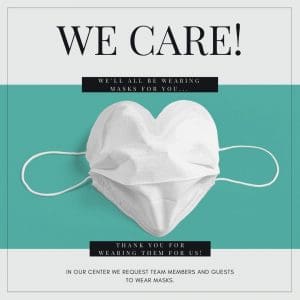 Masks  – Our team will continue to wear masks to protect you during your service. We will also be requesting our guests to wear masks during their visit with us. Even if you have received your vaccination, you will still need to wear a mask while in our center.
High Standards of Cleaning & Sanitation – We continue to clean and sanitize our center after each guest's service and high touchpoints throughout the day. Our center will continue to partner with Your Healthy Spaces, a company specializing in

Total Infection Prevention Solutions (TIPS) that are utilized within every industry and space that need to prevent the spread of germs and infections. To further clean, sanitize, and place a 30 protection on our center.

Arrival for Services – We ask that our guests remain in their cars upon arrival and either call or text us upon our arrival so we may come out to welcome you into our center.
Additional Visitors –

As we have to limit the number of individuals in our center at any given time, family & friends will be unable to join you at your upcoming appointments.

Scheduling Appointments – We will once again be scheduling future appointments while our guests are at our center.
Checkouts – We will once again be checking out our guests while in our center. A few added details:

Checks will once again be accepted as a form of payment.
At this time, we will still not be accepting cash as a form of payment.
Credit cards will still be required to be on file to reserve your appointment and be used as a part of our updated cancellation policy.
Once again, we truly appreciate the patience and incredible understanding our guests have offered to us during this season! We thank you for continuing to entrust us with your hair and scalp needs!
---
Our #1 Priority – YOU!
We want our guests to know that we are doing all we can to reinforce our already high standards of cleanliness and sanitation as we do our part to help stop the spread of Covid-19.
Above, we have included a short video detailing the extra steps we continue to take to make our guests feel safe and welcomed into our center.
---
Appointment Cancellations
Due to the limited hours available for scheduling and the many changes we have implemented to keep our team and our guests healthy and safe, we ask that our guests arrive at their appointment on time. If a guest is late for their appointment we may not be able to perform the scheduled services, and the guest will be charged a cancellation fee for the full service amount.
We require 24-hour notice for appointment changes or to cancel an appointment. In the case that proper notice is not given, a guest does not show up for a scheduled appointment or shows up late and we are unable to perform the scheduled services due to lack of time, the scheduled service will be charged in full to the credit card used to secure the appointment.