Learn more about the additional steps we have taken within our center to make our guests feel more confident and safer when visiting us for their hair and scalp needs.
---
Our #1 Priority – YOU!
We want our guests to know that we are doing all we can to reinforce our already high standards of cleanliness and sanitation as we do our part to help stop the spread of the corona virus.
Above we have included a short video detailing the extra steps we have taken as we prepare to once again welcome our guests into our center.
---
Appointment Cancellations
Due to the limited hours available for scheduling and the many changes we have implemented to keep our team and our guests healthy and safe, we ask that our guests arrive at their appointment on time. If a guest is late for their appointment we may not be able to perform the scheduled services and a cancellation fee will be charged.
Beginning July 1, 2020, we have updated our cancellation policy. We require 24 hour notice for appointment changes or to cancel an appointment. In the case that proper notice is not given, a guest does not show up for scheduled appointment, or shows up late and we are unable to perform the scheduled services due to lack of time, the scheduled service will be charged in full to the credit card used to secure the appointment.
---
Covid 19 Service Adjustment Fee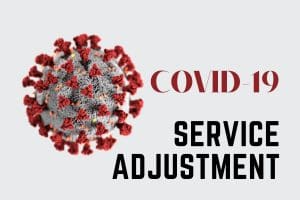 Our company prides itself on creating a culture that basis itself on a win-win-win philosophy. The decisions we make look to find a win for our guests, a win for our team and a win for our company. With this in mind the reopening of our center has created a juggling act of health and safety with new standards, increased costs and decreased timelines for performing services.
Before Covid-19 our services were designed to give some flex time to allow for unexpected run-over, 5-minute client arrival delays, and for cleaning and changing over our rooms between guests. In order to safely reopen our center, the time now needed between appointments has increased from 0 minutes (built into appointment timing) to 15 minutes between appointments. This time is now spent fully disinfecting and sanitizing the entire room, chair, sinks, tools, products etc. This is a crucial part of our reopening, as it directly aligns to our #1 priority of the health and safety of our team and our guests.
This additional 15 minutes between services is important time, but ultimately creates a loss of service time – a loss between 1-2 hours per stylist, per room, per day. Ultimately, this means the number of guests we are able to see on a daily basis has greatly decreased, while our overall costs have greatly increased.
We value 1 hour of our time at $75. This means that for every 15 minutes we spend doing something that we value and will not compromise on, our company ultimately loses $18.75 (not including the added costs of PPE, highest grade disinfectants/sanitizers and the many other costs associated with safety precautions).
As we juggled the challenging decision of how to reopen, how to have a NO-COMPROMISE approach to health & safety and how to create a win-win-win decision to accomplish all of this, we made the challenging decision to implement a temporary Covid-19 Service Adjustment Fee.
Beginning Tuesday, May 26th we will be adding a $9.75 Covid-19 Service Adjustment Fee to each service provided in our center.
After looking at several different scenarios that included:
Permanent service price increases
Pass through of full costs of 15-minute downtime
Further delaying reopening
We concluded that the Win-Win-Win culture we pride ourselves on, would ultimately direct our final decision making. For this reason, we determined that the temporary Covid-19 Service Adjustment Fee created the best Win-Win-Win scenario:
No immediate, permanent service price increases
Guests do not carry full burden of increased costs – it is split between company and guests
We are able to reopen now, allowing our guests their much-needed services and our team the ability to rejoin the workplace.
We appreciate our guest's patience and understanding during this very challenging time.  More importantly, we truly cherish the opportunity to continue to provide you with all of your hair and scalp needs!