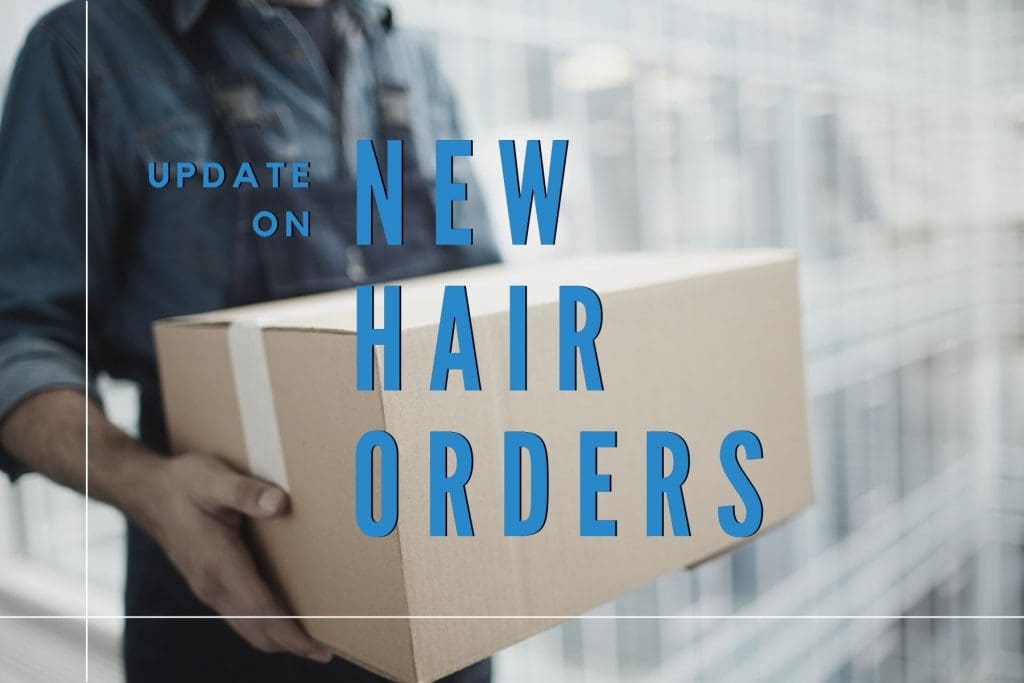 Updated April 1, 2022
We want to update our guests on what has been going on with hair manufacturing, along with what we are seeing and expecting in the upcoming months. Although we cannot predict what will happen, providing our guests with the most up-to-date information will help bring better clarity and set realistic expectations. So here are four things you need to know about hair production:
What is the ETA of your hair?
The most challenging question we have been receiving over the last few months is about ETAs. We understand it. We want to provide our guests with an updated eta, but the truth is that we are receiving very few to no updates on ETAs. This is very frustrating for us as we know it is beyond frustrating to some guests, especially those who have placed orders in 2021 and are still awaiting their hair.
We have been seeing that we are notified Sunday evening or Monday morning of what we can expect in the shipment for that week. We do everything possible to expedite the shipping and quality control process to get the hair to our guests as fast as possible.
We want our guests to be assured that even in your order is going on 10-12 months, as we had expressed, the orders are in process and will be delivered to our guests as they have been for the last 45 years.
As this information becomes available, we will share it with our guests. Again, we appreciate the ongoing patience as we work to balance the challenges of getting orders here as quickly as possible and not pushing so hard on our manufacturers to cause further frustrations and delays.
Order Times Have Been Trending Down       
Some good news to report is that we have begun seeing an influx of orders coming in every week. In addition, we have also seen our average time for order production move from 10-12 months down to an average of 6-8 months. This is some much-needed good news!
While this is good news, we are still encouraging our guests to be proactive in placing their new orders. These averages have fluctuated quite a bit over the last two years, and we would rather see our guests have a hair addition here in waiting vs. not having one and being challenged with hair loss in the current hair addition you are wearing.
Our team can assist you with going over our current 0% financing offers to help our guests spread payments out over a more extended period.
Potential Challenges On the Horizon
The excellent news that production time has been trending down must also be balanced with some of the current reports we hear from our manufacturers. There are a few issues that are arising both overseas and in the US that show signs of production once again slowing for both existing and new orders.
Newest COVID variant: Just as we felt we could put COVID into the rearview, we are observing upticks in COVID cases overseas with the BA.2 variant. These are also beginning to be reported in the US. Because of this new uptick, we are closely monitoring how this could affect our manufacturing.
Upcoming Holiday For Manufacturers: Our manufacturers will be taking a holiday break at some point during April 2nd through May 4th. Usually, the manufacturer will close for ten days, at which time all production pauses. However, suppose the uptick of covid cases continues. In that case, our overseas manufacturers may impose longer breaks (greater than ten days) to prevent the spread of Covid from people spending time with their families.
PLEASE, Take Care of Your Hair
Now more than ever, taking care of your hair is vital. We have always advised our guests of the best-designed products to take care of their hair for it to last as long as possible, look as natural as possible, and be able to style how you would like it. Now is the time to re-focus on the recommendations our team is making. Saving money on a cheaper product may ultimately create a more expensive problem for you down the road.
Thank you for your continued patience with our company and our team. We truly are blessed to have such understanding and loving guests. Thank you for continuing to entrust us with all your hair and scalp needs!
~ The Hair & Scalp Specialists.
---
Updated October 1, 2021
We continue to work with our manufacturers to help expedite our current orders in production. We have begun to see updated ETAs on our hair additions – which is good news!
With that said, the ETAs we have been provided at times can be very fluid. For example, we have seen situations where an order misses its ETA. We follow up with the manufacturer to find out the order ETA has been pushed out three months. A week later, we received another email that the hair order had been pushed out an additional two months only for the order to show up at our center three weeks after the original missed ETA.
To say this is challenging would be an understatement. Still, we are doing our best to continue staying on top of our manufacturers and communicating with our guests as best as possible.
New Updates:
Order limits imposed
In September, our manufacturers began placing limits on the number of new orders that could be sent in for production. These limits were imposed due to the continued challenges associated with Covid-19. As a result, in October, our production limit decreased from what was provided in September by 30%.
What does this mean?
This means that what we communicated in August about "getting your place in line" is more important than ever. We do not anticipate production limits going lower, but most of our orders placed in September have already filled our production spots for October. This means orders placed in October will not begin production until at least November.
For existing orders, this does not change anything. It may actually be good news for existing orders as it means that we could see better, more efficient production leading to orders arriving in a more timely manner. We will wait to see how this works in the months to come.
How are we helping our existing guests?
We have begun to limit the number of new guest orders to prioritize our existing guests who are wearing hair and require new hair. We encourage our guests not to wait to place a new order as the timelines remain longer than they ever have been, 8-10 months from the start of production. With the newly imposed production limits, production may not begin for 1-2 months.
Our goal has always been to keep a level of transparency to assure confidence in our commitment to our guests. We continue to find it an honor and a pleasure to serve you with all your hair and scalp needs, and we look forward to continuing to help you with the best of the best in hair and scalp solutions!
~ The Hair & Scalp Specialists
---
August 1, 2021 Update
Over the last several months, we have been updating our guests on the status of hair orders. In July, we received updates from our primary manufactures that production and supply chain challenges have not gotten better, but our factories have again hit hiccups from a resurgence of the Covid 19 Delta Variant.
This resurgence of Covid 19 has not stopped the production of our hair systems. Still, it has caused our factories to decrease their manpower/workforce by close to 50% to remain open by safely working in a more socially distanced environment. Unfortunately, this ultimately means that our timeline for hair deliveries has continued to push back.
New Updates 
Current Orders in Production – Orders submitted to our manufacturers continue to hold their priority queue in the production schedule. Our relationships with our manufacturers have allowed us to keep these places in the line to avoid further lost production time.
ETA's – Unfortunately, our original estimates for existing orders of 6-7 months are trending upwards instead of down. Therefore, our initial estimates are now being revised to delivery times ranging between 8-10 months from the start of production.
New Orders – We are still able to take new hair orders. However, we can no longer give estimates of arrival times for future new orders. Currently, we must temporarily hold on sending new orders to our manufacturers. The reason for this new development is that we need to allow our factories to get caught up and not be overwhelmed and disheartened by the continued backlog of new hair orders. In addition, our goal is to help uplift the morale of our factory workforce to see increased production in the long term.
Each new order will secure its spot in our production queue in the order that it is received. Meaning an order placed on August 1 will be sent to the factory before an order is placed on September 1.
Is There An Alternative? – Right now, every manufacturer across the world is experiencing very similar types of situations. The one slight exception to this is our Cesare Ragazzi CNC system from Italy. Up to this point, this factory has been impacted the least. We have clear communication, ETA updates, and deliveries are coming in very close to the estimates. However, the CNC is not a system that will work for all of our guests as it is a very specialized hair addition. If the CNC is something that you are interested in learning more about, you can find more information HERE or reach out to our team for more details.
---
July 1, 2021 Update
Here's What We Are Doing To Help Production Time
For close to 45 years, we have established strong relationships with our manufacturers. For this reason, we have received preferential treatment for our guests' orders. This includes:
Priority Queue – Many centers across the country have orders sit for months at manufacturers before they are even looked at or put into the production queue. On the other hand, we have worked with our manufacturers to eliminate this practice for our orders. As a result, our orders are being processed and queued for production faster and, at times, being prioritized in place of other centers' orders.
Visual Priority – We have worked with our manufacturers to place our orders in "high-priority" red bags. Although this may seem like a minor detail. These bags are used for high importance hair orders. All of our orders are now looked at by our manufacturer as high importance.
Expediting Shipping – We have begun shipping to and from our manufacturer with express air shipments. This, in turn, cuts down the time on the front end and the delivery end by a significant amount of time.
Communication, Communication Communication! – Our team continues to relentlessly communicate with our manufacturers about the updated status of our orders. Although we are giving the utmost patience to our manufacturer, we are also looking for the most current information to navigate the hair production process faster.
Timelines For Delivery
Estimated arrival times (ETAs) are becoming more and more challenging to get. As we had previously been accustomed to getting updates weekly or bi-weekly, we now receive updates 4-5 months after an order has been placed. Unfortunately, this ultimately means that we are not as quickly able to estimate when hair will arrive. Therefore, our original 6-7 months estimates are now being revised to delivery times ranging between 8-10 months from the start of production.
Take Care Of Your Hair
Now more than ever, the importance of taking care of your hair is vital. We have always advised our guests of the best-designed products to take care of their hair for it to last as long as possible, look as natural as possible, and be able to style how you would like it. Now is the time to re-focus on the recommendations our team is making. Saving money on a cheaper product may ultimately create a more expensive problem for you down the road.
Please Don't Wait Till The Last Minute
Our ability to "rush" an order is no longer available to us, so you must plan for your next hair addition in advance as we can only move as fast as our quality manufacturing standards allow us.