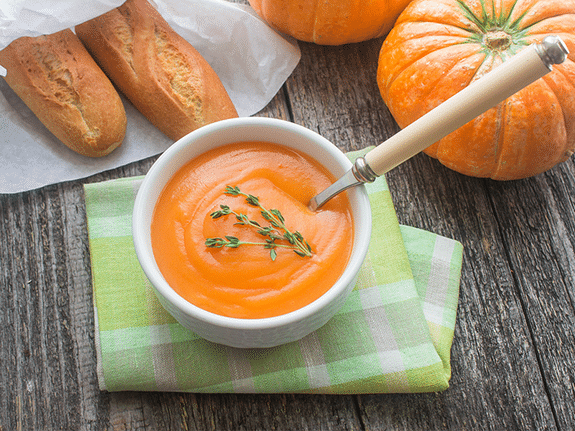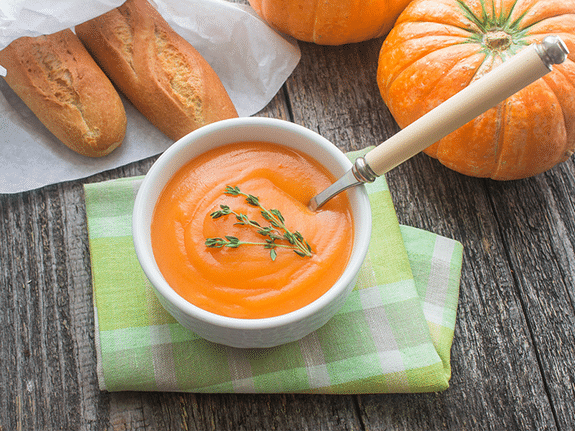 As it gets cooler, delicious and healthy fall soups are a good way to stay warm, while also promoting healthy hair and skin!
My friend, and our outstanding health and wellness expert, Marisa Dicenso-Pelser, shares her Creamy Pumpkin Bisque recipe with us. It is a hearty soup that even those who are dairy-free can enjoy!
The best part is that pumpkin is packed with vitamins and minerals including B vitamins, vitamin C, E and beta-carotene—just to name a few. Among its numerous health benefits, pumpkin also helps promote glowing skin and healthy hair.
Creamy Pumpkin Bisque
Ingredients
• 1 ½ tablespoons extra-virgin olive oil
• 1 cup chopped onion
• 3 garlic cloves, minced
• 3 cups cooked butternut squash
• 2 cups low-salt vegetable broth
• ½ teaspoon ground allspice
• 1 ½ cups unsweetened coconut milk
• Salt and pepper to taste
Directions
1. Heat the oil in a heavy large pot over medium heat. Add the onion and garlic. Sauté until golden, about 10 minutes.
2. Add the pumpkin, broth, and allspice. Bring to a boil. Reduce the heat. Cover and simmer until flavors blend, about 30 minutes.
3. Working in batches, puree the soup in a Vitamix blender until smooth. Return the soup to the pot. Bring the soup to a simmer, seasoning to taste with salt and pepper.
4. Ladle the soup into bowls, drizzle with a teaspoon of coconut milk, and serve.
Enjoy this great tasting soup that will not only be delicious but will help keep your hair looking and feeling healthy!
Thank you Marisa for this great recipe! For more information on Marisa and great recipes, visit her blog! You can find more healthy recipes on my health and wellness section here.
Remember…Beauty Begins Within
Marisa Dicenso-Pelser – Marisa is one of the Founders and Head Trainers for Pure Health and Fitness. Marisa is a Raw Foods Chef, Personal Trainer, and Nationally Qualified Figure Competitor. Along with her husband, Pieter, they are spreading the word of the importance of plant-based raw food nutrition as well as fitness throughout Northeast Ohio.