In this episode of Hair Loss Solutions TV™, you will discover the following:
Tour of the Cesare Ragazzi Laboratories in Bologna, Italy, where CNC 3-D prosthetic hair pieces are created [0:40]
The process of mapping and casting the head to create the molding to be transformed with 3-D Printing into a Hair Replacement

[0:55]

The 39 steps involved in the Cesare Ragazzi Labs to produce a second scalp with hair to replicate growing hair 

[1:50]

The DNA and quality control checks performed to ensure that the hair and scalp are of the highest quality 

[5:22]

The art of injecting one hair at a time into the second scalp

[8:15]
What is CNC 3-D Prosthesis?
By using the most technologically advanced, dermatologically-tested, non-invasive hair replacement system found anywhere today, this "Second Scalp" that allows people suffering from hair thinning and loss to enjoy a completely custom made full head of beautiful hair. After taking a mold of your scalp and mapping the areas of hair thinning and loss by a licensed certified center, the Cesare Ragazzi team is then able to take this mold and leverage 3-D Printed Technology to replicate a model of your scalp, perfectly matching the contour and shape of the hair loss site.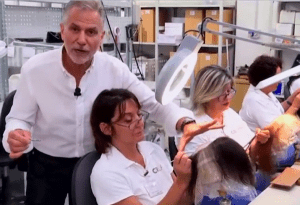 The model is produced with breathable biopolymer material that becomes your customized "second scalp."
The prosthesis is hypoallergenic and secured with a dermatologist-approved adhesive and allows you to live a normal life, including swimming, showering, exercising, etc. With a base consisting of antifungal, antimicrobial material, and biomedical materials, it adapts to your body temperature and allows sweat and heat to pass through. Only virgin, unprocessed hair is used in the CNC prosthesis, which makes it the highest quality of human hair. With the CNC 3-D prosthesis, you can truly live your life without compromise!
What are the Steps for Receiving Your New Look?
We begin with an evaluation of your hair loss by our Trichologist who helps us determine whether you are a good candidate for Second Scalp. This evaluation includes a ScalpCheck® to assess the degree of your hair loss and scalp condition.

One of our Certified Specialists generates a digital map of your scalp and alopecic areas. This map helps us and our manufacturer ensure your Second Scalp is a precise fit, allows for natural hair movement and appears completely seamless with your current natural hair.

From the digital map, we utilize proprietary software to construct a digital cast of your scalp that becomes a blueprint for the creation of your Second Scalp.

We then create an actual replica of your scalp and skull from an exclusive, medically engineered membrane material using robotic technology. This membrane has the exact shape, lines, and colors of your scalp.

Production specialists select strands of high-quality, unprocessed human hair to help us replicate the color and texture of your hair.

The production of your Second Scalp continues with each strand individually implanted into the membrane in a way that emulates your scalp's natural hair patterns.

This is the exciting point for so many of our guests – the placement and styling. We non-surgically and painlessly attach your Second Scalp, integrating it along the way with your current natural hair. Our professionals cut, blend and style your new hair for an unbelievable new look.
If you want to discuss receiving a new look, or if you know someone else who does, click here to learn more about the solutions available.
About Cesare Ragazzi Laboratories
Cesar Ragazzi Laboratories, a European industry leader in hair restoration and scalp care, has developed and pioneered the most advanced prosthesis product on the market – the CNC 3-D Hair and Scalp Prosthesis.
The CNC is the only non-surgical hair replacement system that is both ISO certified and FDA compliant. There are currently over 45 Cesarre Ragazzi clinics operating across Italy, Switzerland, Poland, Turkey, Israel, India, Guatemala, Dominican Republic and Brazil, as well as over 30 Cesare Ragazzi exclusive affiliate centers in the United States and Canada.
Cesare Ragazzi and the CNC technology have been featured nationwide through news outlets such as the Huffington Post, Fox News and NY1 News. Around the industry, the CNC is being recognized for utilizing the most advanced 3-D printing cam scan technology to create the most life-like scalp replica. Click here to find a clinic in your state.
Ready to Learn More?
Be sure to subscribe to our free weekly newsletter where we will continually feature new episodes from Hair Loss Solutions TV™. Or if you are looking for a Hair & Scalp Specialist, please call (440) 333-8939 or click:
BOOK NOW!
RESOURCES:
In this episode, we used the following resources:
For Consumers:
Sponsor: