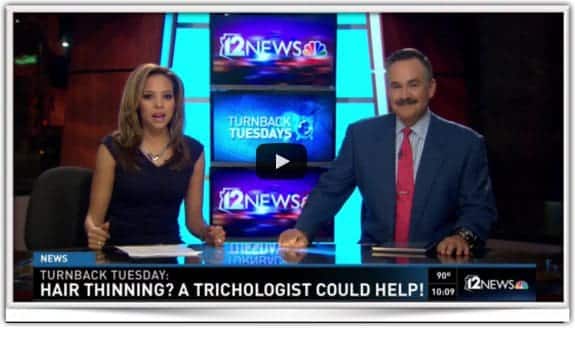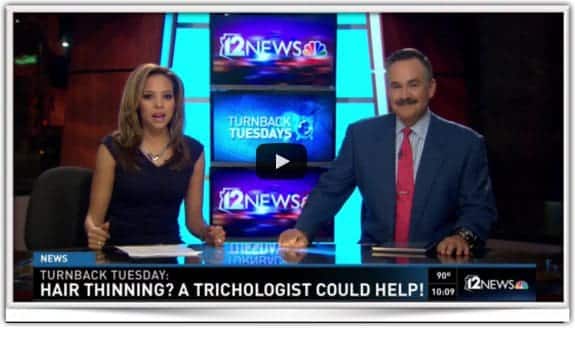 People around the country are talking about the benefits of having a ScalpCheck™. Thanks to 12 News in Arizona for spreading the word about our center and our ScalpCheck™.
The ScalpCheck is four-step process that includes the following:
Step 1 – Check Your History
Step 2 – Check Important Scalp Values
Step 3 – Physical Scalp & Hair Check-Up
Step 4 – Scope The Scalp & Hair: A specialized video scope with three different lens magnifications allows our certified trichologist and you to view your scalp on a large screen in order to help further identify problems and create a benchmark that we can review after treatments begin.
These lenses include: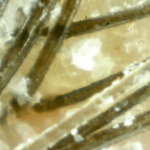 200x Magnification: This view allows us to "walk around on the scalp" at the surface layer to see and evaluate levels of oil, hydration, and dandruff not seen by the naked eye.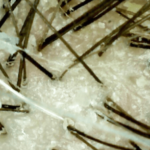 50x Magnification: This view allows us to look at the hair at its level to examine the health of the hair, if it is going through miniaturization, if the density levels of the hairs are in a balanced state, and if the hairs per square inch are in a normal, healthy range.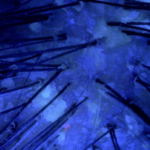 Blue Light Lens:  This view, with similar properties to a black light, illuminates parts of the scalp in different tones. Its purpose is to show different types of oils and dandruff on the scalp.
Once the four-step process of the ScalpCheck™ is completed, all the data is entered into our proprietary software that provides the proper scalp and hair treatment protocol for that guest based on their individual scalp and hair needs. The protocol would include one or a combination of the following:
Sebum Regulating

– designed to decrease the overproduction of oil on the scalp while also decreasing the bacteria that contribute to oily dandruff.  

Anti-Dandruff & Moisturizing – designed to increase and retain balanced moisture on the scalp while decreasing the bacteria that contribute to dry dandruff.
Hair Loss Prevention – designed to bring hair loss into a balanced condition, bring hair loss into a normal, healthy range, intensify hair production and increase the quality and thickness of hair.
To learn more about ScalpCheck, make sure to visit the ScalpCheck Page and to schedule your ScalpCheck™, please call (440) 333-8939 or click below:
Remember…Beauty Begins Within