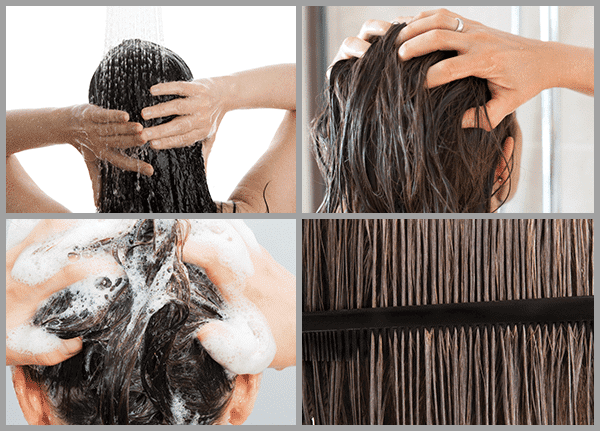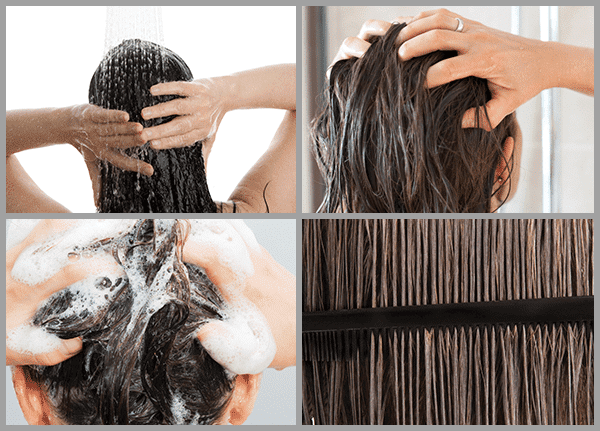 It's important to remember that a Hair System is an investment. By taking proper care of it, you will keep it looking natural and make it last longer. In order to do so, I highly recommend following a well-prescribed maintenance routine and one crucial part of that includes proper cleansing of your system.
Before I discuss the appropriate steps in that process, I want to bust a myth right now: washing a wig or hair replacement system less does not make it last longer.  In fact, cleaning and conditioning with the correct products and procedure will increase the life span since it lifts the oils and grime that cause hair loss and make for an unnatural look.
If you wear your hair system attached in extended wear fashion (removed by professional every 4-6 weeks) it is best to follow these video steps here.
If your hair system is worn daily (taken on and off each day), I suggest following twelve simple steps:
Detangle: Friction can create tangling of the hair and in order to minimize damage, make sure hair is detangled prior to washing or getting it wet.
Pre-Condition: Fill a basin or sink with lukewarm water (not hot!) and add moisturizing and detangling conditioner to the water. Use an up and down motion to avoid tangling.
Rinse: While taking the hair replacement system, which should be positioned on the mannequin, set it in the sink and using low-pressure water, rinse. It's key to not let the water hit the hair where it's hand tied to the base material.
Cleanse: Similar to the "rinse" step, use lukewarm water and this time apply shampoo to your system.
Rinse: Repeat step number 3!
Repair: Apply a pre-conditioning protein treatment to hair, working the product from mid-strands to the ends. Leave product in until after the next step is complete.
Repair – Continues: Grab that moisturizing and detangling conditioner and cover the entire area where the protein treatment was distributed. Leave on for 3 minutes to soften hair.
Rinse: One more time…repeat step number 3!
Dry: Be sure to squeeze out all excess water and use a friction free towel to blot out remaining water.
Hydrate: Spray a liberal amount of leave-in protein to hair. Use your fingers to work the product through evenly.
Protect: Spritz moisturizing and detangling spray conditioner on hair and work through with your fingers. Comb the product through hair with your fingers, a loop brush or a wide-toothed comb.
Refresh: In order to dry the inside of the base and re-tighten the knots, use an ionic blow dryer.
After following these steps, your Hair Replacement System should be clean and ready for whatever activities the next day, week, month and year will bring you!  To learn more about my Beautiful Hair products which are specially formulated for hair systems as well as growing hair… Click Here!
If you would like to learn more about the right solution for your individual hair loss please email or call me to set up a private and personal consultation with one of my consultation specialists. Or to get your free copy of my Personal Hair Loss Evaluation eBook Guide, which helps determine your loss and best-personalized solution, all you need to do is sign up for my blog. 
Remember…Beauty Begins Within