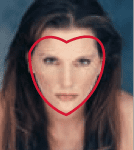 No two faces are the same, each and everyone of us has a unique beauty that should be framed with a gorgeous style! What style best brings out YOUR beauty? That depends on the shape of your face. Have you figured out what kind of shape your face is? Well, this might be a good idea to know and understand because it can help your appearance.
Take a head-and-shoulders photo of yourself while your hair is pulled back away from your face and hairline. Make sure the photo shows the full width of your shoulder-span to put your face shape and position into perspective. Then take a red permanent marker and draw neatly and directly along the outline of your face in the photo. Hold it next to the diagram of face shape samples to determine which face shape you have. Most of us are combinations, but this will serve as a general guide.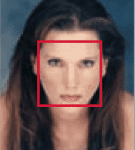 Then examine (you can do this initially with your stylist if it makes you more comfortable) the following descriptions of which styles could be most flattering to your face shape and shoulder-span and most conducive to your lifestyle, and which colors might be most complementary to your skin tone. Use this as a basis to explore further styling options.
To give you a better idea of styles that will suit your face shape, check out my post Determine Your Face Shape. 
For more beauty tips connect with me on:
Remember…Beauty Begins Within