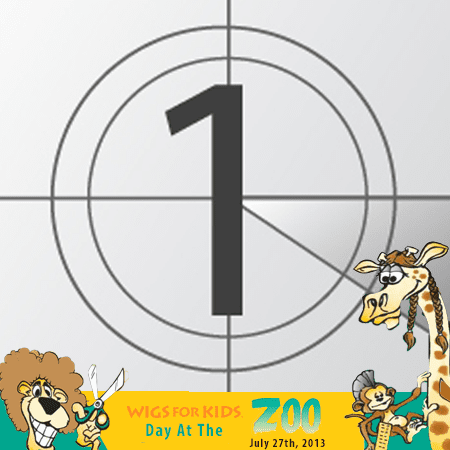 Do you remember Emma? Children like Emma and Kiken (read his story below) are able to hop, skip, jump and play around the playground just like normal children their age despite suffering from illnesses that leave them with little to no hair on their heads. How? Because of your generous donations of your own hair, your time, or your finances.
Last weekend the community of Cleveland came together for a cut-a-thon at the Cleveland convention center to cut their hair for this year's Wigs for Kids recipients, but tomorrow you have the opportunity to help even if your hair isn't 12 inches long! Sign up to Walk/Run at the Wigs for Kids Day at the Zoo event where we will be celebrating these fantastic children by raising money to help more children look and feel themselves.  The event and sign up information is below, don't miss out on a chance to put a smile on a child's face!
For 8-year-old Kiken, receiving a hairpiece will change his life. Because he suffers from alopecia, the kids at school are bullying him. With the funding for a hairpiece he will fit in among his peers and be a 'normal' kid!
 Event Details:
WIGS FOR KIDS DAY AT THE ZOO!
Walk, 5K Run & More!
Saturday – July 27th, 2013
Cleveland MetroParks Zoo
Event Schedule
7:00 am – Registration/Packet Pickup Open
8:15 am – Opening Remarks
8:30 am – 5K Run
8:35 am – 1 Mile Fun Walk – Team Kick Off
8:40 am – 1 Mile Fun Walk – Individual/Family Walkers
9:30 am – Cut-A-Thon hosted by La Barberia Institute, Raffle Prizes, Kids Zone & Entertainment & Much More!
Pre-Registration Entry Fees
Mail ins: Must be received by Wednesday, July 24, 2013
Online Registration Click here!
Remember…Beauty Begins Within