Your health is something that you need to think about with a total body approach. One of the areas we tend to forget about when working on our posture is our hip flexures. Because most of us sit all day in an office chair, that creates a tightening in our hips, as well as our back and chest. So in today's series of stretches with Mark Roozen, we show you a stretch that works on your hip flexures and back.
Using a stick for support, begin swinging your leg back and forth. Make sure you're standing tall and straight up. By kicking your leg back and forth, you are opening up your hips and allowing your back to straighten up.
Want to read more about how to live pain free? By subscribing to my blog not only will you get great health and wellness tips but a FREE copy of Mark's e-book, "How to Live Pain Free." Sign up here to receive your free copy!
Remember…Beauty Begins Within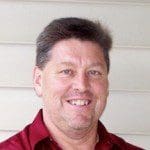 Mark Roozen, M.Ed.,CSCS,*D, NSCA-CPT, FNSCA, has over 25 years of experience as a strength and conditioning coach at the high school, college and professional level – most recently with the Cleveland Browns of the NFL on their Strength and Conditioning Staff. Roozen has written for a number of professional trade journals and has presented at the national and international level. He is also Co-Director of The Performance Education Association (TPEA) and owner/president of Performance Edge Training Systems (PETS).