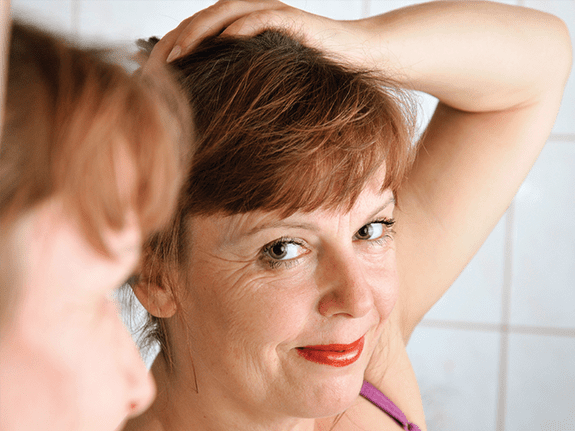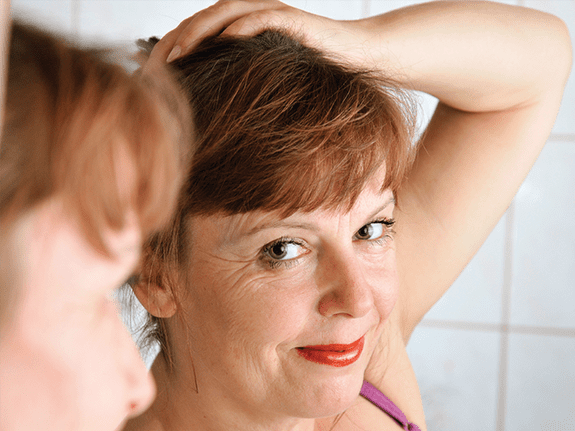 If you have already completed your at-home diffusion evaluation then your next step is to figure out your pattern stage (or how far your hair loss has extended), in order to find the best solution for your hair loss needs.
To do this, while your hair is still wet, after showering, part your hair from the top of your ear to the center of the top of your head. Look at how far the thinning comes down from the top of the part. You can use the images below to choose from as you determine your own stage:


• Stage 1 – Hair is thinning or gone very close to the top and center of your head and forward, close to the hairline.
• Stage 2 – Hair loss or thinning extends almost to the back of the top part of your head and farther sideways in a manner that would line up with the outer edges of your eyebrows if you drew a line from those edges up onto your scalp.
• Stage 3 – Hair thinning or loss extends to the back of the crown and sideways and down to an inch or two above the tops of your hears.
• Stage 4 – The affected area stretches from the back of the skull before it caves in to drop down to the nape of your neck and extends sideways and down to the tops of your ears.
• Stage 5 – All over hair loss or thinning, from hairline to the nape of neck, and surrounding the ear area completely.
By using both your at-home diffusion evaluation and your square inches of pattern area, you will be able to have a better idea of what solution would be best suited for your needs. My Solution Matrix can be found in my Personal Hair Loss Evaluation Guide, along with the personal profile questions you need to ask yourself.
If you are having a hard time determining your diffusion grade or would like to learn more about the right solution for your individual hair loss please email or call me to set up a private and personal consultation with one of my consultation specialists.
Remember…Beauty Begins Within