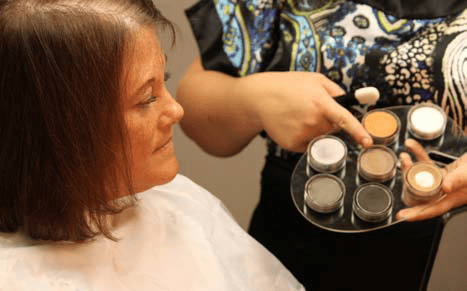 It's the opening credits for Pretty Woman, and we see Viv putting on her leather boots as she gets ready. But they are not perfect, so she takes out a black magic marker and colors in the worn spots so they won't be noticeable. It works – we don't notice them, and people could relate.
Camouflage makeup is one of the simplest ways to deal with early hair thinning and loss, particularly for those who are experiencing between 10-20% thinning. To do this we can use light powder and liquid covers dark or red spots on skin, and dark and light powders and liquids can conceal thinning areas on scalps. If the right products are used, we can look nearly perfect and no one will notice hair thinning and loss issues. because many of them had been using that technique on their shoes for years before the movie came out.
Here are some of our tips for applying camouflage makeup:
1. Cover only the empty or emptier parts of your scalp.
2. For oily to normal skin on your scalp, the best product to use is a pressed powder. This eliminates shine and is absorbed well.
3. If you have dry to normal skin on your scalp, try a cream that will help to eliminate dryness. Both products do what we want them to – they go directly on the scalp and very little gets on the hair itself.
Remember, figuring out which products will be best for your scalp skin condition is between you and your specialist, but some basic rules apply; if you must use sprays, a little goes a long way and follow directions on distance from your target area. With any makeup, utilize neighboring hair for blending and partial coverage of the make-up area. Don't use anything overly drying or that doesn't hold up in inclement weather or while you're active. Take it off (gently) when you're done, as you would with regular makeup on your face. Match your shade as carefully as possible. Colors can be blended to your shade of choice.
I am here to answer any questions you may have about camouflage makeup so please feel free to comment below or email me! Our team would love to help you determine the best camouflage products and help you learn to apply them, stop into the Jeffrey Paul Salon today for a consultation!
Remember…Beauty Begins Within