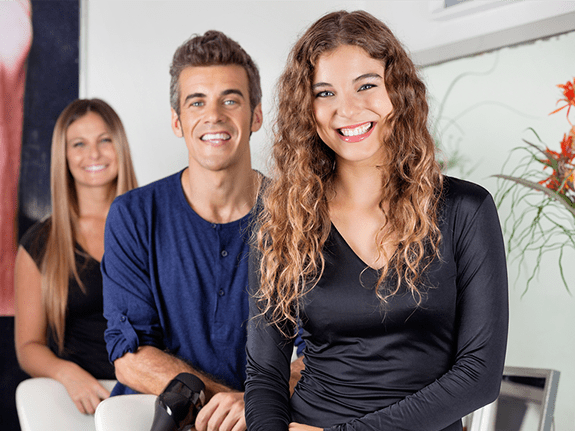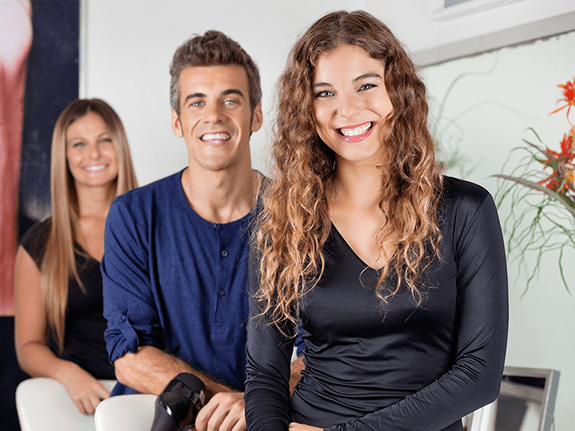 Have you ever thought about the idea of a "team" when looking for a salon or stylist? Whether it is for beauty services or hair loss services, most women today find one stylist and become so comfortable with that stylist that you may not even realize what you may be missing out on from a salon with a team-based culture.
A salon with a team-based culture is made up of individuals who work together with one goal in mind- YOU! Communication is key to a team-based culture. That team makes notes after each appointment about changes to your color formulas or cut, your specific likes or dislikes. This is important so that at any given time any member of the styling team could do your services and you still have the confidence that they will deliver with the same excellence as your preferred stylist.
Here are four benefits that a salon with a team-based culture could add to your experience:
Flexibility – Your life is busy, but your hair is important! Having the preference for a stylist is good, but it also can be limiting. By feeling comfortable with 2 or 3 stylists who you know, and who know you gives you the opportunity to double or triple the options of days and times you are able to take care of your hair.
Unique Specialties – Have you ever thought about changing your look? Maybe going from long to short hair? Maybe making a dramatic change in color? Or you have a special event and need an up-do. With a team-based culture each individual has their unique specialties. By knowing the team of stylists and what they excel at, will give you the opportunity to work with a specialist making that special occasion or new look all that more beautiful! 
Don't Feel Uncomfortable – Have you ever just wanted try someone new, but felt that your stylist would be mad or hurt? A team based culture is not centered around "Me" or jealousy, meaning guests do not feel that they will be offending a stylist by seeing another stylist on the team – Why? – Because the stylists know it is all about YOU! The stylists work together to pamper all guests and whether it is because of scheduling conflict or the guest just wants a change… they are good with knowing you are taken care of and they will still see you again! 
Beauty – Remember "beauty begins…within!" I cannot tell you how many stories I have heard, about a stylist leaving an area and a guest feeling as if no one will be able to make her look the way "that" stylist does. It is important to know that even though you may love how your stylist does your hair, it is not that stylist who creates your beauty. By first having this confidence within and then knowing that you have another option within your salon will help make a change less traumatic and keep you remembering you are beautiful – regardless of your stylist or your hair!
At Jeffrey Paul Salon, we strive to create a salon that is focused on a team-based culture. My team, ads their own unique specialties to create a team that is both diverse and unique – like you! In the coming months, I'll be introducing this amazing team to you so you can feel comfortable and confident when coming in, whether it's for your first consultation or you've been a guest for years.
If you would like to learn more about Jeffrey Paul Salon or the right solution for your individual hair loss, please email or call me to set up a private and personal consultation with one of my consultation specialists.
Remember…Beauty Begins Within