Welcome to our Best of 2017 series. We're counting down your favorite posts from Jeffrey Paul Blog and looking forward to some of the surprises we're planning for 2018!
In this episode of Hair Loss Solutions TV™, I visit the Cesar Ragazzi Laboratories in Italy to give you a behind the scenes look at the process we use to give you the best hair transformation possible. Using the second scalp method, our hair loss and restoration experts create solutions that allow you to live your best life.
We want to know: What would your life look like with a second scalp and a full head of beautiful hair?
Remember…Beauty & Change Begin Within, 
Jeffrey Paul

In this episode of Hair Loss Solutions TV™, you will discover the following:
Tour of the Cesare Ragazzi Laboratories in Bologna, Italy, where CNC 3-D prosthetic hair pieces are created [0:40]
The process of mapping and casting the head to create the molding to be transformed with 3-D Printing into a Hair Replacement

[0:55]

The 39 steps involved in the Cesare Ragazzi Labs to produce a second scalp with hair to replicate growing hair 

[1:50]

The DNA and quality control checks performed to ensure that the hair and scalp are of the highest quality 

[5:22]

The art of injecting one hair at a time into the second scalp

[8:15]
What is CNC 3-D "Second Scalp" Prosthesis?
By using the most technologically advanced, dermatologically-tested, non-invasive hair replacement system found anywhere today, this "Second Scalp" that allows people suffering from hair thinning and loss to enjoy a completely custom made full head of beautiful hair. After taking a mold of your scalp and mapping the areas of hair thinning and loss by a licensed certified center, the Cesare Ragazzi team is then able to take this mold and leverage 3-D Printed Technology to replicate a model of your scalp, perfectly matching the contour and shape of the hair loss site.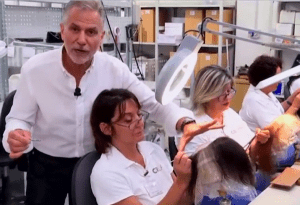 The model is produced with breathable biopolymer material that becomes your customized "second scalp."
The prosthesis is hypoallergenic and secured with a dermatologist-approved adhesive and allows you to live a normal life, including swimming, showering, exercising, etc. With a base consisting of antifungal, antimicrobial material, and biomedical materials, it adapts to your body temperature and allows sweat and heat to pass through. Only virgin, unprocessed hair is used in the CNC prosthesis, which makes it the highest quality of human hair. With the CNC 3-D prosthesis, you can truly live your life without compromise!
What are the Steps for Receiving Your New Look?